A Middle-Grade Graphic Novel
Sort of Super
By Eric Gapstur
When a series of accidents gives eleven-year-old Wyatt Flynn super powers, he wants nothing more than to be a superhero. But he's not very good at using his powers, and what's worse, his dad says he's too young to be a superhero at all. So when his brilliant but mischievous little sister, Adeline, lets him in on the secret that with their father doesn't know won't hurt him, they form a crime-fighting duo of their own, solving all kinds of problems that come there way… sort of.
The more they learn to be heroes, the clearer it becomes that there's more to Wyatt's powers and Adeline's off-the-charts intelligence than meets the eye. And Adeline can't shake the feeling it's all connected to the disappearance of their mother years before… which is one mystery that will take more than being sort of super to solve.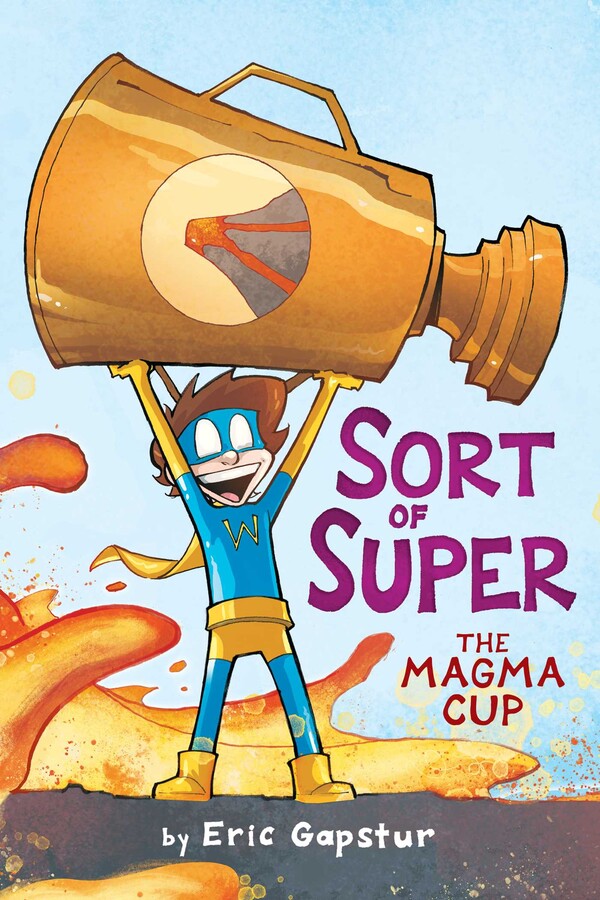 Sort of Super
THE MAGMA CUP
By Eric Gapstur
Wyatt and his sister Adeline are determined to investigate an extinct volcano hundreds of miles from home that Adeline believes to be related to their mother's mysterious disappearance. At first it seems like an impossible mission until they realize there's a summer camp conveniently situated near the base of the volcano. So it's off to summer camp for Wyatt, Adeline, and their buddies Beto and Nara. But when they get there, they find it impossible to sneak away from the heavily chaperoned grounds.
Opportunity presents itself by way of the Magma Cup, the camp's tournament-style series of mental and physical competitions where the finalists compete in an overnight—and less chaperoned—scavenger hunt on the volcano itself!
Unable to use their abilities, can the super-team win their bracket and ditch their counselors to explore the secrets of the volcano and the connection it has to Wyatt and Adelina's missing mother…or will the whole thing blow up in their face?
PRE-ORDERS ARE NOW OPEN — Shipping Summer 2023!
ABOUT the Author
Eric Gapstur
Eric Gapstur is an author, illustrator, and cartoonist living in eastern Iowa with his wife and two sons. His work can be seen in DC and Image comics, among others. Sort of Super is his debut middle grade graphic novel series.
"This brightly illustrated graphic novel with a racially diverse supporting cast perfectly captures the whiz-bang spirit of an unpretentious caped crusader comic. Wyatt and Adeline make for engaging protagonists, swapping quips and supporting one another in an earnest sibling relationship that's effectively sketched …"
"Lots of laughs in this one as Wyatt and his super team (his brainiac younger sister Adeline and his awesome grandma) try to solve the mystery of the town's missing pets. And, Wyatt hopes, the mystery surrounding his mom's disappearance.
Ending with more work for Wyatt and Adeline to pursue, student readers will be anxious for their story to continue in a sequel. The bold, bright colors and fast paced storyline will appeal to the middle grade audience.
— Katie Reilley
The bright colors, fast pace, and an endearing cast of supporting characters are sure to appeal to young comic fans. The drawing style and humor are reminiscent of "Calvin and Hobbes," and on almost every page spread Gapstur includes an effect that pops out of the standard panel arrangement.
The ending of Sort of Super leaves plenty of room for future installments of Wyatt's adventures, which is good news for middle-grade readers who become fans."
— Gary Anderson
August 5, 2023 – 10:00 a.m. – 4:00 p.m.
Join us as we welcome Eric Gapstur into our store to celebrate the release of his new book, Sort of Super: The Magma Cup. Eric will be here signing copies from 12-4 PM.
August 5, 2023 – 10:00 a.m. – 4:00 p.m.
Eric will be participating in the Cedar Valley Children's Book Festival. Come and meet the Author and learn more about his new book Sort of Super the Magma Cup!
August 5, 2023 – 10:00 a.m. – 4:00 p.m.
Ames Public Library
Eric will be at the Ames, IA, Public Library. Come and meet the Author and learn more about his new book Sort of Super the Magma Cup!
August 5, 2023 – 10:00 a.m. – 4:00 p.m.
Join us for an evening with Eric Gapstur, an author, illustrator, and cartoonist from Marion, Iowa. We will be celebrating the release of book 2 in the Sort of Super series, The Magma Cup. Copies of Sort of Super and The Magma Cup will be available for purchase. Eric will be signing and sketching for anyone who purchases a copy of either title. This event is free to attend.
JULY 22, 2023 – 12 – 4:00 P.M.
Join us for a SUPER event featuring one of our favorite Local Authors – Eric Gapstur! Check out what happens when a kid with superpowers and his super smart sister go to Summer Camp … something seems fishy… and it isn't the lake!
Please call ahead to reserve copies of the books you would like signed by Eric so we are sure to have enough – we sold out last time!
July 13, 2023 – 4:00 p.m.
The Comic Art Workshop — Join Eric Gapstur, creator of the "Sort of Super" graphic novel series, for a program all about how to make graphic novels! Tweens will learn about each step in the process: writing, drawing, coloring, and lettering. There will also be a short Q&A followed by an interactive demo where you'll create and draw your own comic book character. A few lucky tweens will go home with a door-prize copy of the book!